Mostly there is a big sigh of relief once the website is completed and uploaded but wait, do you actually think that it is done forever? NO, just like your car, your body, your house, and even your website need maintenance on a periodic basis. Many people think that website maintenance is majorly about fixing the bugs that pop up after launching it but actually, it encompasses a lot more. Upgrading the website's visual branding, integrating with new systems and updates, or uploading fresh content is all part of maintenance. A website is the first impression of your business and this needs to be in line with the constantly evolving environment around you in order to not fall behind in the competition.
Website maintenance is simply the process of monitoring your website for faults regularly and ensuring that everything is fully updated and responsive. You must do this on a regular basis in order to keep the website fresh, secure, and reliable. This increases your SEO and Google rankings while encouraging traffic growth.
It is necessary to keep your website updated, whether you are a huge organization, an individual, or a small businessman. This enables you to interact and connect with targeted customers and potential guests on your website while also preventing severe issues.
Examine whether your website's pages load rapidly and without any problems.
Create a backup of your website's data to verify that it is safe.
Make sure your site's software and plugins are up-to-date.
Examine all the forms to make sure they're working properly.
Delete spam comments from your website's posts or pages.
Make sure there aren't any broken links on the pages.
Investigate your website for 404 errors and resolve them.
Keep your blog updated to keep your audience interested and returning.
Maintain control over their web hosts and ensure that everything is running efficiently.
Your Motivation for Website Maintenance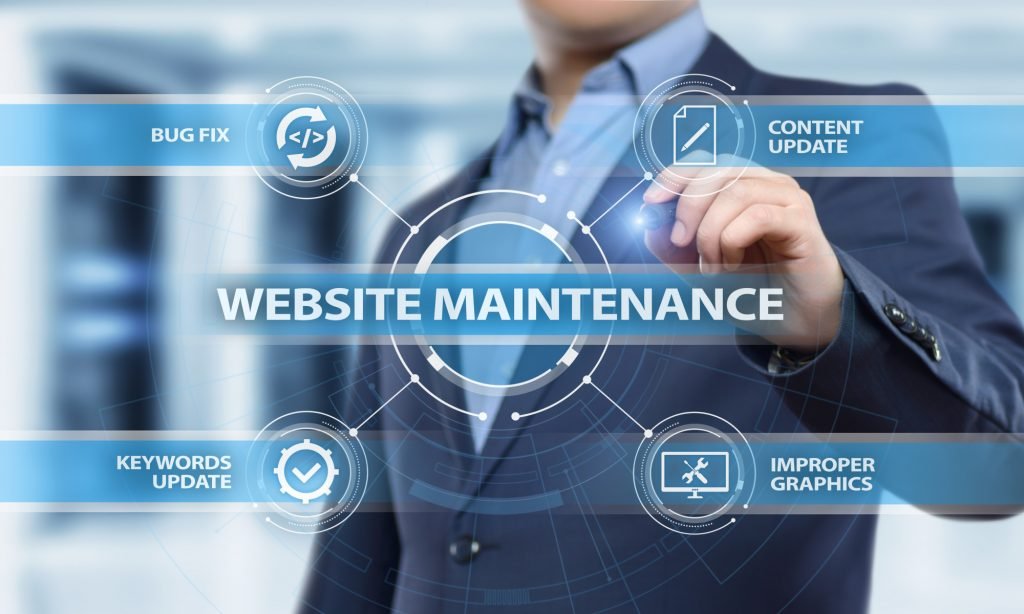 While things like link building services and social media campaigns to get more people to your website might be more exciting to you, if you don't maintain your website it's all for nothing.
1. Improves SEO
SEO stands for search engine optimization and is the act of optimizing your website to appear prominently on Google search and other search engines.
When your website appears at the top of search engines, you're able to get traffic to your website from highly interested people. These people are searching for a solution that you can provide them right now.
Search engines like to know they are providing the best content for their searchers which is why they make sure to rank websites that are up to date. If your site hasn't updated in years, you're likely to start sliding in the search rankings.
2. Keeps Your Website Secure
There are constant improvements in security. Most of these improvements are to counter some new hacking attack. If there are holes in your system that means that someone with ill intent could get into your information and the information of your customers.
Common CMS (content management system) products like WordPress have regular updates but if you haven't logged into your dashboard for a long time, you could be behind on 5, 10, 15 or even more updates.
3. Gives Your Visitors a Better Experience
When you fix your website and keep it in good working order, you give your visitors a better experience. A better experience means they are likely to stay on your site longer.
If visitors stay on your site longer, they will have more time to get to know you and potentially purchase some of your products and services.
User experience is one of the major focuses of top companies these days due to the fact that it allows you to have a competitive edge. Many people are willing to pay more for a product or service if they get experience with it.
4. Makes Your Site Faster
When you properly maintain your website and have everything up to date, your website will run faster.
Site speed is now a ranking factor in Google and is likely a ranking factor in other websites as well. No one wants to wait for a website to load. They are ready for the information they searched for before they hit the go button and if you make them wait more than a couple of seconds, they are going to find someone else to service their query.
5. Brand Image
Even if you have everything else right, when you fail to take care of your website, it says a lot about your brand.
No matter how great your colors are or your brand messaging, when they go to your website and your site looks like it came from 2003 — turn off!
Your brand image is an important part of your business and your website is a large part of your brand image.
Why Should You Pay for Website Maintenance?
Your website is your online business—and it's not the only thing you need to focus on. You have a lot going on and keeping your WordPress site running smoothly isn't always at the top of your list.
We understand that you don't have time to worry about every little thing that might go wrong with your site, especially when there are so many other tasks demanding your attention. And we also understand that sometimes things can happen unexpectedly and quickly, which means even if you do find time to handle these issues yourself, you might not have enough time or resources available right away. That's why we offer our services:
To monitor the health of all aspects of your site (both technical and non-technical) so that they're up-to-date, secure, and performing well
To fix any issues as soon as they appear without having to wait until they become too serious
What are included in the Website Maintenance Services List?
We have already provided a basic explanation of what website maintenance includes. It's now time to go over the key services that are included in the Website Maintenance Services List.
1. Scan for Vulnerabilities
Security should be the primary reason for website maintenance. Check for the spam that may have surpassed your filters. Scanning for vulnerabilities regularly assures that your website is not attacked or taken over.
2. Repairs and Fixes
This is all related to errors, bugs, and broken links. Both internal and external links should be checked. A link checker can be run to look for broken links that frustrate the users and reduce the search engine rankings.
3. Browser Compatibility Testing
Ensure that all aspects of your website are functioning properly in the most common browsers. Your website must also be compatible with less-used browsers.
4. Software Update
The critical software your site relies on should be updated. For example; the content management system, its themes, and plugins. Also, upgrade non-critical software if they are worth applying.
5. Website Backups
The database backups would be automatically performed on a weekly basis and restored at least once every six months.
6. Site Speed
This is a very critical point to check. Use Yahoo's YSlow or Google Pagespeed Insights to identify the issues which are slowing your site's speed.
7. Search Engine Optimization (SEO)
With SEO you identify the issues which are affecting the ranking of your site.
8. Analytics
Through the Google Analytics dashboard, check the important metrics of your site and the trends in those key metrics.
9. Functionality
Check all the important functions like filling up signing forms, contact forms, checkout forms, etc to ensure that everything is working smoothly.
10. Website Content
Fresh and updated content on websites is what users and search engines like. Therefore regularly review your content, correct the mistakes, and upload the new information with targeted words in a fresh style.